Teaching and Learning
Teaching and learning at St John Fisher Academy
We believe that lessons should be both fun and challenging. In lessons, students should be expected to think for themselves and to challenge themselves, to express opinions and to give reasons for those opinions.
At St John Fisher, every lesson has some non-negotiables. These are rules that must be followed in every lesson,
Each lesson except practical PE lessons will have a seating plan. Students must be told where to sit and who to sit next to, or if in groups, who to work with. Seating plans should be created using the Class charts seating plan software.
When students arrive at the lesson the expectation must be that they open their planner to the right date and put it on the desk. They should get out basic equipment, black pen, green pen, purple pen, ruler, pencil.
Each lesson will start with a Silent Learn Now task. This is to help students think about what they have previously learnt or to start thinking about what they will be learning. The expectation is that they begin this task as soon as they sit at their desk.
During lessons, students should be expected to take pride in their work by keeping exercise books neat and clean. To help remember this we use the acronym PROUD. PROUD stands for Pen, Ruler,

O

ops

, Underline and Draw diagrams. Writing should be in black pen. Rulers must be used to underline titles and dates; drawings must be in pencil. If a mistake is made in pen, students should use the ruler to draw one line through the mistake. (Students without rulers can use the edge of the planner back page).
Lessons should work in a circular format around the teaching and learning model we use at St John Fisher. This is called the learning cycle.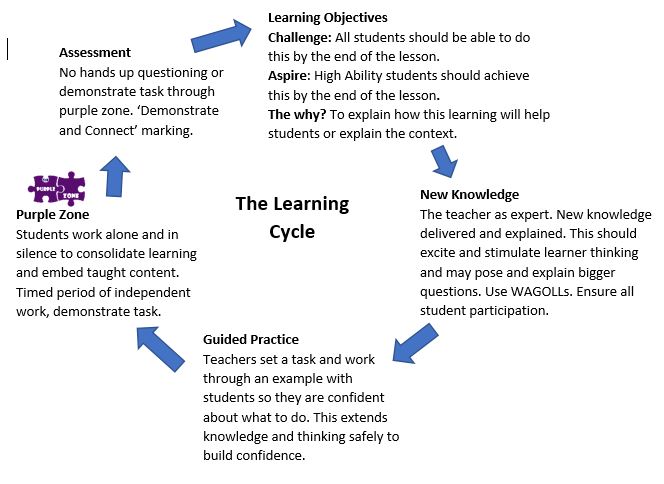 Independent Learners
The aim is to help students become independent learners.
At each stage of the cycle, the teacher should explain clearly what students are expected to do and show examples of how the work should look.
At the start of each lesson, the teacher will explain the 'what and the why' of the lesson. Learning objectives will be set at two levels, Challenge, and Aspire. The Challenge learning objective should be pitched at the highest ability student in the class, but something all students can and should achieve by the end of the lesson. The Aspire learning objective will be harder, something the High Ability Learners should aim for. It will still be achievable if students push themselves.
The 'Purple Zone' task should be the climax, or hardest part of the lesson. This should be planned first, with scaffolded tasks planned around it. 'Purple Zone' is designed to help students develop the skills of independence, problem solving and resilience. It should mimic exam conditions. This is designed on purpose, to help students to complete tasks which make them think outside of their comfort zone. Doing 'Purple Zone' will mean that when students have to sit an exam it will feel easier and more familiar.
Assessment
Formative and regular assessment is about checking what knowledge students have acquired how well they are learning and acquiring new knowledge, and if they are able to remember and apply this knowledge to new situations. Assessment takes place through several different ways.
Formative assessment
Questioning – using cold calling, a 'no hands up' approach where teachers will ask students to answer questions by name.
Quick quizzes – quizzes are used to check knowledge retention from lesson to lesson or to test key terminology or vocabulary. These will usually take place as the 'Learn Now' activity at the start of the lesson or later on during the lesson as new knowledge is taught.
Written assessment – Written assessment, either through 'purple zone' or not can take the form of answers to questions, exam answer practice, creative writing to explore a particular issue, essays, longer exam style answers or extended computations.
Extended learning (Homework) – set out of class learning through pre prepared booklets or through Microsoft Teams. Students are also set work through one of the electronic platforms, e.g Tassomai or Seneca. Students will be given passwords for these platforms.
Summative assessment
In class tests and assessments – these may be written or physical, in practical subjects. For example, the execution of a set formation in a team game, a solo performance in drama, or the creation of a tower in technology. This may take the form of a prepared presentation. Summative written assessments are usually marked by the teacher and numerical data is collected and stored.
Formal assessments will take place for all year groups at different points during the year as follows.
Year 7 - English and Maths exams
Year 8 - English and Maths exams
Year 9 - English, Maths, Science, Geography or History exams
Year 10 - Mock exams in all subjects (PPE's)
Year 11 – Mock exams November and March/April in all subjects. (PPE's)
Marking and feedback
Marking of student's books should take place regularly and often. At St John Fisher teachers should mark books every 2-3 times they see these students. The purple zone task only is marked. Marking uses one set of four coloured highlighters Yellow, Pink, Orange and Green. Literacy errors should be marked using the yellow highlighter. When books are returned to students, they should check mistakes and correct them using the green pen. If a misspelt word has been highlighted, they should rewrite the correct spelling three times in the left-hand margin of the book using the green pen. Students should be encouraged to develop independence in correcting mistakes, to do this as a matter of course when they check their own work.
At St John Fisher we use the 'Demonstrate and Connect' marking and feedback system, in all subjects except Art, where the marking system is slightly different but still uses the Pink, Orange Green methodology. Work will not be graded unless students are doing a summative assessment.
When students are asked to complete a purple zone 'Demonstrate' task in their exercise books using their purple pen, this is marked by the teacher after reading it through. The teacher highlights the title with a green, orange, or pink highlighter. This shows the student which feedback they need to respond to in the next lesson in the 'Connect activity.' This must be indicated on the powerpoint used in the next lesson as per the table below. The 'Connect activity' should be completed in green pen. Each highlighter colour means the following.
Green

Highlighter

The student has completed the 'Demonstrate' task to a high standard. The 'Connect' task will now stretch the students understanding by giving an additional but similar task to do.

Orange Highlighter

The student has met the challenge objective for the most part. The 'Connect' task will consolidate and correct misconceptions. This task should give further practice on the required skill.

Pink Highlighter

The student has not shown the required understanding in the 'Demonstrate' task or has been absent for this work. The connect task should either reteach the key skills from the previous lesson or set a task which goes back a step to consolidate the foundation learning required.
Further information can be found in the following policies,